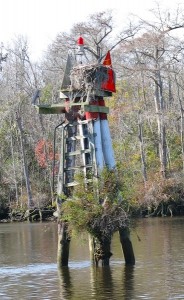 It is always delightful to get back together with an old friend you haven't seen in a while. This time, I didn't realize quite how good a friend it was before I got back together.
We have traveled the ICW four times before on Flutterby, and once before on Cayenne. Each trip has been a different section or sections, and this time it is one we've traveled before. I first wrote this while traveling South this spring, and forgot about the draft until now while we're heading back North again. The waterway is still the same old friend, and my stories and memories still apply, so as we're crossing back into Georgia today, I'm finishing this story off.
An old friend is often just as you remember him–Every time we have been on the waterway we have seen dolphins surfacing and breathing. Sometimes we hear them before we see them. Sometimes they are just traveling through, perhaps in the same direction we are going, or perhaps in another direction. One time one followed us for over an hour, surfacing right next to the cockpit about every minute, on the port side for a while, then on the starboard side for a while.
Other times the dolphins are feeding, and they don't move in a straight line, they are more vigorous and stay in the same area. Often pelicans are fishing in the same place as the dolphins. I love watching them dive. They will hang or circle for a bit around 20 feet up in the air, then dive straight down into the water with a huge splash. When I was anchored nearby, the splash was loud enough that I looked up to make sure nobody had just fallen off a boat. The other thing I've noticed is that when they dive in this way, their head goes under the water, but their body won't go under, and they spin around 180 degrees by their neck, and come up facing the other direction. Where are the pelican chiropractors?
But sometimes you learn a little bit new about an old friend. I've watched pelicans doing their big dives many times, but recently I've seen them doing little dives where they fly near the water and land dipping their head in without the huge splash and 180 degree turn. However they dive in, they still spend quite a while with their beak in the water and their neck full of water and (hopefully) fish, and slowly filtering the water out so they can spin the fish around so the scales are in the direction that is easy to swallow.
My friend the waterway also goes through seasons. Twice we have been moving North during summer. Once we were moving North during winter. Once we were moving South in the winter. Going South this March it was still winter when we left North Carolina at the start of the trip. We went  South, and closer to the sun, and the sun was moving North and closer to us. I wrote to somebody that we crossed into spring somewhere in South Carolina. As we made the Gerogia/Florida border, we were getting into summer already. I think I managed to get through the tree pollen season in less than a week this year.
One seasonal thing about the waterway is the cruisers. Three times we were moving with the general marine snowbird migration, and got to interact with the rest of the flock. When we purchased Flutterby, we were going North and everybody else was going the other way, and often told us we were going the wrong way. This spring, the waterway was empty when we started. As we got into Georgia we started seeing more cruisers…and once again, they are mostly going the other direction.
Sometimes your friend will have a small subtle change…many people could miss it but perhaps you notice. The waterway wears thousands of aids to navigation. A few of them are buoys, but most of them are signs on pilings. They don't change much. Perhaps a third of them are lighted and those are slowly shifting. They used to be a large red or green gumdrop with an incandescent light bulb inside. When the sun is low, if you caught them just right, they would glow as if they were turned on when the lens caught the sun. But to keep this lighted, there is also a medium solar panel mounted at a 45 degree angle facing South, and a battery about the size of a car battery. They keep the coast guard busy servicing them because the bulbs burn out eventually, and the batteries need to be replaced every few years. Lately I've seen something new. It is a little bigger than the gumdrop, but shaped like a square Japanese lantern. All four vertical sides have solar panels, and it might have a battery inside, or perhaps instead a big capacitor bank. At the top is a LED light. I've converted Flutterby's navigation lights to LEDs, so I appreciate the same benefits, smaller, lower power usage, and reason to hope it will work for decades without maintenance.
One of the more embarrassing things about my old friend waterway is that I'm getting accustomed to its flaws and learning how to deal with them. In this case, it is all the shallow water. I have to admit that we managed to touch the bottom once each of the first few days this trip. I don't want to go back through the days and try to count them all now. The first one was in a known shallow anchorage that we decided to go into at low tide anyway. A couple others were as we were getting into or out of anchorages. Some were when we drove out of the channel. I remember one that was in the channel too.
But something is new this year. Not one of them was difficult to get underway from again. My new (but embarrassing) technique is to motor with the centerboard all the way down, so we draw six feet. We're generally going slowly when we run aground, and stop easily. At this point I make sure we know where we want to go, probing the bottom around the boat with a boat pole if needed. Then, knowing which direction to go, we throttle up and crank the centerboard up until we are free. Since we draw about four feet with the board up, this has worked each time. Then once we are moving well, I let the board back down, for next time. I still don't know how we managed to go all the way from Vero Beach back to Beaufort, North Carolina in summer of 2011 without a single grounding.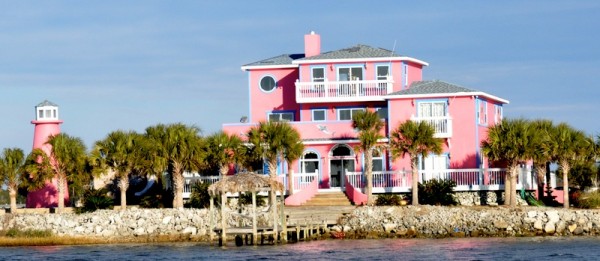 And then there are the familiar waters and landmarks we pass by each time. For some reason, we always take a picture of that big pink house in North Carolina that's on its own island with palm trees and tropical stuff painted on it. This time, I turned to Margaret and said, "I don't know who lives there, but I wish I did." We went by Hilton Head Island, where we purchased Flutterby, and Calabogue Sound, where we did our test sail. We even went back through the stretch of waterway where we actually sailed with the original rig, and the anchorage where we raised those sails for pictures.
I wonder what new things my old friend will show me as we go back North again?