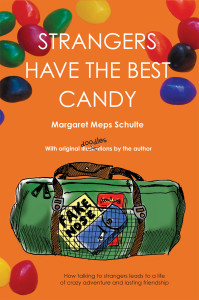 If you like the characters you've read about on this blog, and you like Meps' writing, you're going to love her book, Strangers Have the Best Candy! Available now on Amazon, it's an illustrated collection of amazing encounters with strangers on the backroads and waterways of the world.
Here are some of the folks you'll meet in Strangers Have the Best Candy:
Carrie, the topless runner who popped out of the woods at Crater Lake carrying a bag of flour
Harley and Annabelle, the not-so-mediocre music-makers and stars of Route 66
Captain Craig, the self-proclaimed Scourge of Lake Union and Environs and whatever else needs scourging
Boopsie, the skinny-dipper and breast cancer survivor who was waiting on her implants
Libby, the most Kindred Spirit of all
Chicken Pox Man (but you'll wish you hadn't)
You'll learn what really goes into Happy Stew, where to find the Mythical Butter Divide, and why you should always say yes and always take all your stuff.
You'll learn how talking to strangers leads to a life of crazy adventure and lifelong friendship. Most importantly, you'll learn how easy it is to get your own candy from strangers and why in the world you would want to.
You can find out more about Strangers Have the Best Candy on Meps' book page, 1meps.com/strangers, or order your copy from Amazon. If you're interested in attending or hosting a book event, please email Meps or call her at 772-360-4568.