Today we were driving in the Gaspé Peninsula, and went by one more of the dozens of little roadside rest areas. Since this is way past the tourist season around here, they are all closed, but this one was better than most–there wasn't a gate to lock, even if they did screw plywood over the doors to the washrooms. Considering this an invitation, we drove in and parked. We carried our picnic to the playground, enjoying the view of the Atlantic ocean on a brisk autumn afternoon. We let Prussia out of the van (on her leash), and Margaret was taken for a walk by the cat. Prussia lead her around the washroom building, walking along the railroad tie edge of the landscaping. A guy driving by on an ATV almost fell off when he saw what was going on.
Meanwhile, I was still in the playground, and I saw the slide. It was one of those enclosed plastic tube slides, and it made me think of the time that Prussia spent about twenty minutes absolutely fascinated by a small dry culvert. I walked up to where Margaret was walking the cat and said "I've go the urge to do something evil." as I looked over at the slide. She started laughing. I went down the slide to make sure that it worked.
With much patience and a little coaxing, Margaret got Prussia near the top of the slide.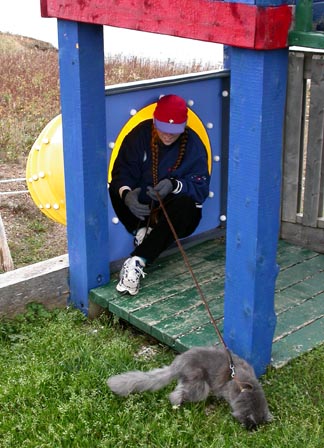 She was far more interested in trying to go under the platform and smell things, but our patience was limited. Finally Margaret picked her up and put her inside the slide. She started walking down, not too impressed with the momentous occasion. Margaret tells me she kept walking, then started to skid a little. She braced her paws as it got steeper, but she only slid faster, and Margaret let go of the leash. The next thing I knew, she slid by in a hurry and I just barely got this picture.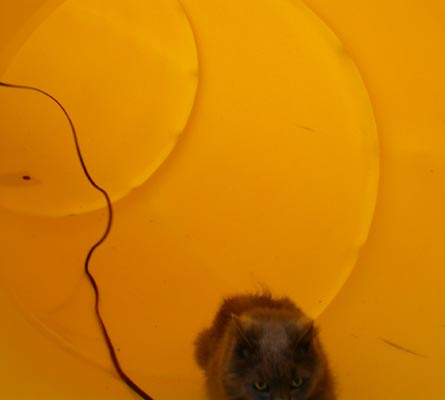 I took care of the important task that followed (picking up the end of the leash) and then got to record the next part of this adventure.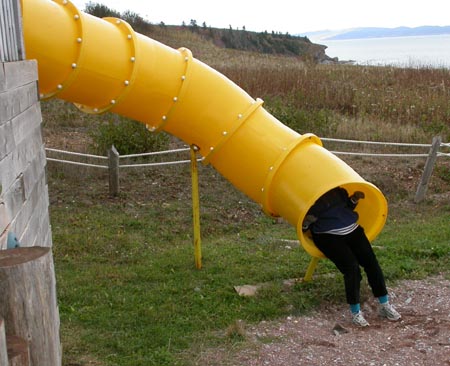 * I'm not sure–Is there even a Canadian Society for the Prevention of Cruelty to Animals? I don't know whether I should hope that they do exist or don't exist.
Usually, when Prussia is unnerved, she's pretty eager to get back to the safety of the Squid Wagon. But as I handed Margaret the leash, Prussia was just in a mood to continue her walk. Then again, she didn't say, "Let's do it again, Mom," and head right back to top of the slide!