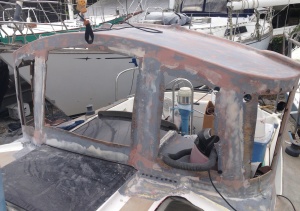 I've been building Flutterby's hard dodger. I've done a lot of thinking about it, which is important….but  the pictures don't look impressive. Filling and fairing  is at least visible, but still not impressive looking: Apply maybe a pound of stuff where you think there are low spots, cracks, or pinholes. Wait for it to cure. Start sanding, and make about a pound of dust. The result is smoother, with an err…interesting? blotchy? mix of colors. The real results will show up after painting..
When the job is done, much of the world around Flutterby will be seen through these windows, from the cockpit looking forward, or just sticking my head out the companionway like a prairie dog. Cutting the hole is a big step. They are hard to relocate if miss-placed. Putting a rounded inside corner where it is supposed to be is complicated too. Today I made a jig to align the center point for a hole saw exactly where it should be next to two edges, knowing that none of the corners are 90 degrees, and none are the same either….and allowing just enough extra to clean it up with a sanding drum that is 1/8″ bigger than the hole left by the hole saw. I've already made little tools to trace a line the right distance up off the deck, following all the curves. Today, after all the thinking and planning, I was ready and cut a window out and sanded the hole smooth!
One down. Four more to go. The "figuring it out" part was bigger than the cutting part, and that is already done for all five windows. My window on the world is opening up and getting a lot more refined!