I've spent another week in the boatyard working on a few projects, and have a few observations to share.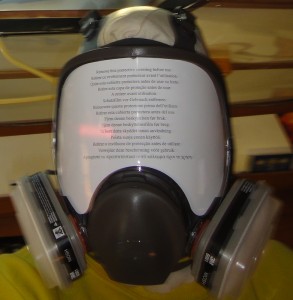 1. I loved my first 3M full-face respirator to death, and just got a new one to love. This time it came equipped with peril-sensitive sunglasses.  I think anyone entering the boatyard for a long haulout should be so equipped.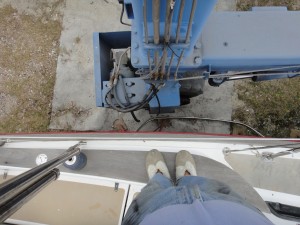 2.  Even though I am pretty hardcore as a do-it-myself person, it is still impressive to see professionals at work.  This pic doesn't show how close the travelift actually got to Flutterby when they took our neighbor away.  I never was worried, although I did watch intently.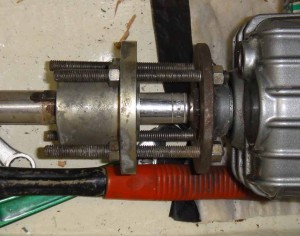 3. When the going gets tough…the professionals have more tools in their toolbox. I hired the yard to change my cutlass bearing. The job is going pretty smoothly, but they found that the shaft coupling just didn't want to come off the prop shaft.  I heard Dale muttering about needing something else to finish this job, a socket or something.  Then he mentioned all-thread.  Since his head was in the engine room along with his torso, I didn't quite get it, and couldn't even see exactly what the problem was.  Off he went to get something or other, and then he returned and dove back into the engine room. When they left for lunch half-way through, I got in and had a chance to see what they were doing.  Makes perfect sense, but I would have spent a lot more time figuring it out than Dale did.
4. I need to work more on "good enough."  Problems like a rudder post that somehow gets water inside it and the tiller arm being a little sloppy where it attaches to the rudder can be thought on and worked on for AGES. My best bet is to let a project like this sit while I do other things, and ask various people what they think is a good idea.